Sun 22 Apr 2007
Posted by News Editor under
Sports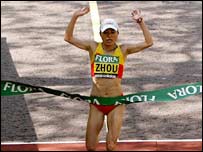 Chinese athlete, Asian Games champion Zhou Chunxiu won London Marathon in record warm temperature, becoming the first Chinese woman to win the race.
BBC News reports:
In punishingly warm conditions, the 28-year-old broke away from Lornah Kiplagat and Gete Wami after 22 miles.

Zhou won in a time of two hours, 21 minutes and 38 seconds with Wami second and Romanian Constantina Tomescu-Dita coming through well to finish third.

Mara Yamauchi was the leading Briton, coming sixth after running a strong second half of the race while Liz Yelling was eighth.

But Kathy Butler dropped out halfway through in the difficult conditions.

Zhou, Kiplagat and Wami had moved away from the field between 10 and 12 miles but it was the Chinese woman who was stronger over the latter stages.
Read the full report on BBC News
Video: Zhou Chunxiu won London Marathon 2007:
One Response to "Zhou Chunxiu became the first Chinese woman to win the London Marathon"
LinkChinese UK News » Photos: London Marathon 2007 Says:
April 23rd, 2007 at 8:14 pm

[...] following photos of London Marathon 2007 are contributed by LinkChinese UK member [...]
Leave a Reply