Sun 29 Apr 2007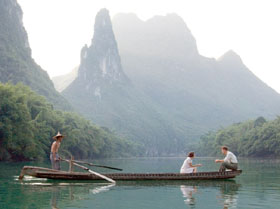 The Painted Veil, set in 1920s China, starring Naomi Watts and Edward Norton, is on general release in the cinemas across UK. Based on the novel by W. Somerset Maugham, this is a love story of Dr. Walter Fane (Norton), a bacteriologist and his wife Kitty (Watts), an upper class London socialite in 1925, who went to Shanghai and then a remote, cholera-stricken village.

Andrew Pulver wrote in The Guardian:
A penetrating and subtle adaptation of Somerset Maugham's novel, which manages to successfully combine a strong-limbed narrative about marital frustration with a painstaking account of the British imperial presence in 1920s China. Both Edward Norton and Naomi Watts grapple successfully - more than most other non-Brits, it should be added - with accent and period mannerisms, while pulling off genuinely affecting performances: Norton as introverted bacteriologist Walter Fane, and Watts as the brittle socialite who accompanies him as he takes up a government post in Shanghai. Their difficult relationship provides the meat of the story, the horizons of which are considerably widened by the film-makers' determination to go deeply into the historical context as Fane forces his wife to travel up-country into the middle of a cholera epidemic as Kuomintang-inspired unrest is on the rise.
One Response to "The Painted Veil on general release"
Westinghouse LD-4655VX Says:
November 3rd, 2011 at 8:32 am

Took me awhile to read a but I really love the article. It proved to be very useful to me and I am sure to all the commenters here
Leave a Reply