Wed 21 May 2008
Posted by News Editor under
Society
A tea party and charity auction held in Edinburgh Confucius Institute raised 700 pounds for the Help the Earthquake Children campaign.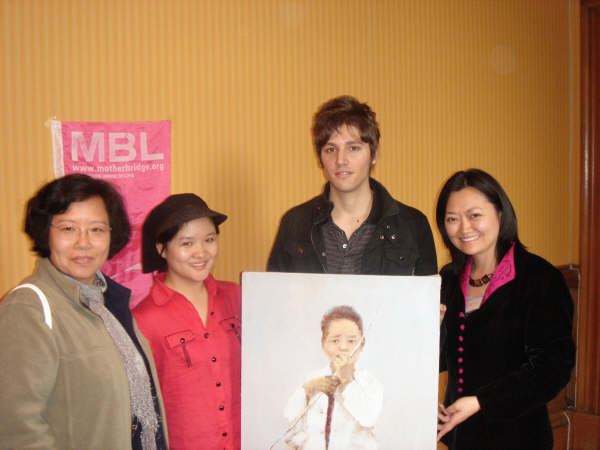 The event, organised by Dr Yuhua Hu of Edinburgh University, was to raise fund for the charity Mother Bridge of Love (MBL), who will use the donation to help children affected by the Sichuan earthquake. Some local and visiting artists donated their work for the auction. Xiang Silou, a woodblock artist, donated two of his woodblock prints through Edinburgh Confucius Institute. A professor from Sichuan Normal University Institute of Arts, Xiang Silou is currently the artist in residence at the Burrell Collection, Glasgow and had exhibition recently in Ricefield. He went back to Sichuan before the earthquake and would like to help the people in the earthquake by donating his art work. Many Chinese of all generations had donated artifacts, jewels, fashion accessories and green teas for the auction. Wang Ying, a young artist, brought her own painting, Boy with a Bamboo Flute, to the event. The boy in the painting is a young Sichuan boy Miss Wang met during her trip to Sichuan last year.
Participants of the tea party and auction were mainly Chinese students, professionals and their local friends. Consul Li Li Bei from Chinese Consulate General told the audiences she was touched by the support and solidarity shown by the British public. Wendy Wu, CEO of MBL, expressed her gratitude towards Dr Yuhua Hu, the auction host Dr Zhongdong Niu, a Napier University lecturer, other helpers who were all volunteers, and the participating crowd. She also discussed some potential projects in Sichuan earthquake area the donation could support.
Several local Chinese artists came to give performance during the party. Dr Zhongdong Niu injected some auction spirit into it by asking the audiences to bid for the performance, bringing some joy into the otherwise solemn occasion. The most touching performance, however, was Mr Zhang Suning's reading of two of his poems inspired by the true stories in the rescue process.
The event raised about 700 pounds for the Help the Earthquake Children project. Dr Yuhua Hu, a member of CYPE (Chinese Young Professionals in Edinburgh) said she's glad to be able to do something to help the earthquake children. "I've seen tremendous support and kindness from the friends and public which the earthquake children will appreciate. We must do more to help them," said Wendy Wu. MBL is cooperating with other organisation to run more fundraising events around the UK.
5 Responses to "Charity auction raised 700 pounds for the earthquake children"
Leave a Reply