Tue 22 Jul 2008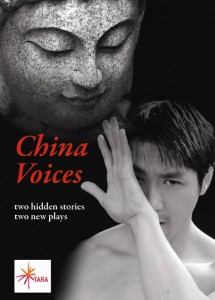 M.T.W. in association with TARA, presents China Voices, a double bill of exciting new plays, directed by British Chinese director Jonathan Man. As part of CHINA NOW, the UK 's largest ever festival of Chinese culture, China Voices is playing at Tara Studio in Earlsfield, South London, at 7:30pm, Friday 25 & Saturday 26 July 2008.
Wolf in the House by Simon Wu is a psychological drama set on a stormy night in Hong Kong. A university professor on the Star ferry invites a young man from mainland China back to his smart flat. But this is the Festival of the Hungry Ghosts, and as we get to know the two men all is not what it seems.
Journeys by Rosaline Ting tells the hidden story of two middle-aged Chinese women living in the UK. The sudden loss of a grown-up daughter draws the two old friends together again. Behind a jolly facade is a grief that drives the need to seek ancestral roots and a yearning to take fate into their own hands, as they begin a journey back to the East.
These uncommon plays will be presented as works-in-progress, giving the audience a unique chance to contribute to the creative process.
Jonathan Man is one of the foremost British Chinese theatre directors. He is passionate about theatre that uncovers new voices and pushes the boundaries between cultures. He has worked with leading writers such as Colin Teevan and Roy Williams, and for innovative companies such as Contact Theatre, Polka, Yellow Earth and the Young Vic.
Simon Wu is a Hong Kong Chinese writer based in the UK, with a track record for writing high quality plays. Wolf in the House, originally written and performed in Cantonese winning the Caltex Drama Award, was also short-listed as a finalist for the Gate Translation Award 2007. He is working with dramaturg Esther Richardson on this new version for 2008.
Rosaline Ting is a Singaporean Chinese writer based in the UK. Her second play was a winner of the prestigious Playwrights Playgrounding scheme run by Polka Theatre in 2006/07. Journeys is her first play, and she is working with leading dramaturg Annie Castledine on a new version for this presentation.
China Voices is supported by the Arts Council England and CHINA NOW.
Tara Studio continues to programme and support work by diverse artists. A unique, informal and intimate venue in Earlsfield it is fast becoming a valuable addition to theatre in South London.
For press enquiries and images please contact Jonathan Kennedy on 020 8333 4457 or email jonathan@tara-arts.com
Listings Information:
Friday 25 and Saturday 26 July @ 7.30pm
Tara Studio
356 Garratt Lane, London SW18 4ES
Box Office: 0208 333 4457
Book Online: www.ticketweb.co.uk
Tickets: £6 (£5 concs)
www.tara-arts.com
A double bill of two new Chinese plays, suitable for age 15+
Leave a Reply