Mon 18 Aug 2008
Posted by News Editor under
Opinion
By Pin Lu from WaterInk.
When I first saw the Spanish basket ball team's slit-eyed photo, I was baffled. I couldn't work out what the gesture was about. Slit-eyed people? Do they mean us?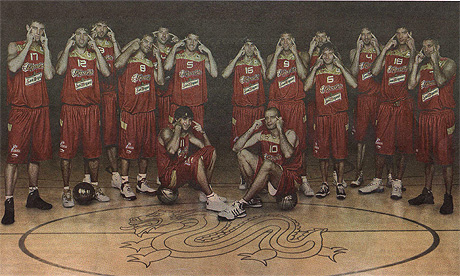 This may somewhat explain the muted response from China. People are largely puzzled by the gesture. When reporting the story, the editor of the Beijing News even felt necessary to add some explanation of what the gesture means, "a common gesture can be suspected as racist, which is not often seen in Asia."
It may also have something to do with the timing. Chinese media only caught the story after it was raised during the daily news conference during the Olympics. Search "Spanish basket ball team" in Chinese and you get dozens of results all saying "Spanish basket ball team apologized for the guilian (making a face) photo". One blogger commented that if only the story was broken 24 hours earlier, before the two countries' basket ball team met, then the Chinese team might be more motivated to resist Spain's comeback.
The slit-eyed gesture may take some explanation for Chinese to understand, but that does not say we don't make fun of other people's look. Cantonese use 'gwailo' (ghost man) to call foreign people because their deep eye sock and funny coloured hairs. You can say it's disrespectful but over the time it has become neutral, even affectionate. I guess Spanish could use the similar line to defend that photo. Indeed a Chinese blogger living in Barcelona felt moved to defend the locals. "A friendly gesture between close friends to be interpreted as racist. No wonder Spanish people are angry."
Something deemed to be friendly may not be felt the same way when seeing the light. I guess like gwailo, the slit-eyed gesture was originated at a time of ignorance, when mocking people's racial characteristics was more acceptable. Whether those participated in this public display thought the time hadn't changed or the viewers would think the same I have on idea. The advertiser who insisted to take this photo may think it was harmless fun to mock Chinese in such a way when they only thought the Spanish-speaking population as the targeted audiences. But in a globalised world, this is insensitive to say the least.
I frowned on the photo when I thought I finally worked it out, some of my fellow countrymen would shrug it off, but I can understand others may be furious and hurt. Spanish media seem to think all the fuss about this is storm in a tea cup, a misunderstanding of Spanish culture, or even a witch hunt. However, whether stereotyping is playful or hurtful can only be decided by those are being targeted. In this instance, the Spainish may well their image some good by opening their eyes.
One Response to "Opinion: Open your eyes"
Cindy Rozo Says:
June 18th, 2014 at 7:37 am

You actually make it appear really easy together with your presentation but I find this topic to be really one thing that I think I'd by no means understand. It sort of feels too complex and extremely broad for me. I am looking ahead on your subsequent publish, I will try to get the dangle of it!
Leave a Reply