Tue 10 Feb 2009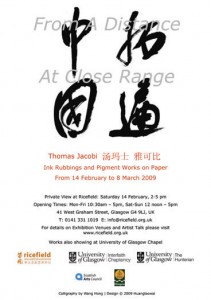 FROM A DISTANCE AT CLOSE RANGE II
Ink Rubbings and Pigment Works on Paper by Thomas Jacobi
Against a backdrop of large-scale transformation to China`s cityscapes, Thomas Jacobi documents traces of traditional Chinese architecture and society in the objects and remains of China`s housing of yesteryear.
Exhibition dates:
Ricefield Arts and Cultural Centre
41 West Graham Street, Glasgow G4 9LJ
www.ricefield.org.uk
February 14th-March 8th 2009
Monday-Friday 10.30-5pm
Saturday-Sunday 12-5pm
University of Glasgow Chapel
Glasgow G12 8QQ
February 14th-March 6th 2009
Monday-Friday 9am-5pm
One Response to "Exhibition: From a distance at close range"
Elden Guzik Says:
May 23rd, 2014 at 1:00 am

What's Happening i'm new to this, I stumbled upon this I have discovered It positively helpful and it has aided me out loads. I hope to give a contribution & assist other customers like its helped me. Great job.
Leave a Reply