Wed 4 Mar 2009
Posted by News Editor under
Society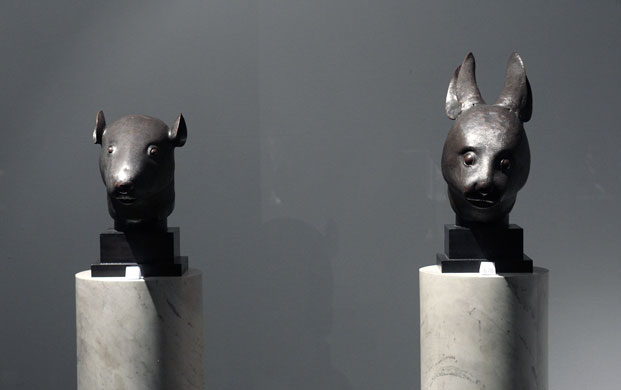 By Pin Lu
So the Chinese collector Cai Mingchao refused to pay the 28 million euro he bid for the two bronze heads at the Christie's. Intentionally or not, this is an effective publicity stunt, forcing the story of disputed auctioning back to the news agenda. A point has been made again that no matter how legitimately Yves Saint Laurent and Pierre Berge acquired and owned the sculptures, the fact remains that they are war plunders, looted from China's imperial palace.
Incidently, the 8th Earl of Elgin, James Bruce, who ordered the destruction of Yuanmingyuan, the Old Summer Palace, where the bronze heads were looted from, is the son of 7th Earl of Elgin, Thomas Bruce, who removed the marbles from Acropolis and shipped them to Britain. The Greek government, like Chinese government, is asking for the return of the national treasures.

A lot of cultural artifacts of China have been looted, stolen, smuggled out of China over the years. Most of Chinese won't demand a blanket return of all the treasures. However, the arrogance of Pierre Bergé, who bizarrely connected the sculptures with Tibet issue, and the insensitivity of the Christie's, escalated the dispute. The two bronze heads, which may not worth the inflated 14 million euro price tag, are seen by many Chinese as a reminder of national humiliation. To put too much symbolism on to them may not be totally rational, but buying them back by the state, as suggested by the Times, doesn't sound right. Some would justifiably feel being robbed twice.
From WaterInk
One Response to "Opinion: The lost treasures"
Memduh Says:
December 8th, 2015 at 2:54 pm

composed by hsm 2012-06-06Acne Vanisher MaskAcne Vanisher Mask can be a facial mask that's made up of Allantoin, which could be the excratt of Comfrey plant, The majority of the cosmetic solutions contain Allantoin because it has anti-irritating properties. As well as this it's also extremely soothing in nature!This Acne Vanisher Mask sucks up each of the dirt present inside the pores with the skin to ensure that it doesn't type pimples! It acts like a natural exfoliator and removes each of the dead skin cells generating the skin appear fresh and radiant. It also increases the hydration with the skin by moisturizing it! so that it will not appear rough and dry! It also improves complexion, It truly is proposed to work with this facial mask the moment or twice a week.Pore Conditioning Lotion. shirly 2012-06-06 timothylarsen.
Leave a Reply