Fri 7 May 2010
Posted by News Editor under
Society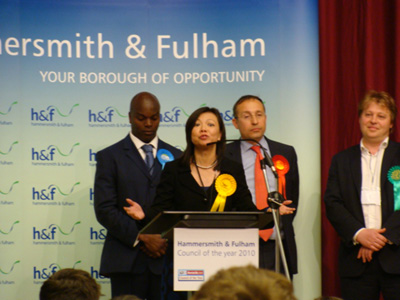 A statement from Merlene Emerson, Lib Dem Candidate for Hammersmith. Please do not hesitate to contact me if you have any queries.
"I have very much enjoyed standing for Parliament in the marginal seat of Hammersmith. Due to the great battle between the two major parties, many voters resorted to tactical voting on the day and my vote was squeezed. Nevertheless I managed a respectable 16% share of the votes and provided residents of Hammersmith with the hope of a different future.
"The Liberal Democrats are now the most reformist and progressive party and will continue to play an important role in UK politics. With a hung or balanced Parliament we have a large influence on which Party will form the next Government.
"At the personal level, I am pleased that my involvement in politics has provided inspiration to others especially young people to become more engaged. Voter turn out was higher in these elections and there was a marked increase in the number of Chinese voters.
"I would like to thank the BC Project for all the support that they had given my campaign and we have certainly made history together in raising awareness within the Chinese community in the UK about the importance of the vote and that they can be part of the whole political process."
"As for the future, I will probably continue with my political campaigning and intend to stand in the London Assembly elections in 2012. But for the moment, my husband and children are enjoying having more of me at home!"
One Response to "A statement from Merlene Emerson, Lib Dem candidate for Hammersmith"
which online canadian pharmacy is legitimate Says:
May 22nd, 2013 at 12:43 pm

Do not poison the life of your family ? combat depression!
Leave a Reply