Mon 5 Sep 2011
Posted by News Editor under
Society
Global Times | September 05, 2011 04:50
By Li Yanhui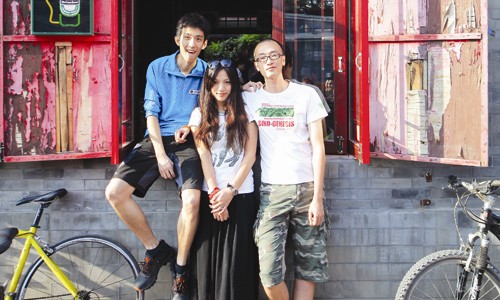 The trio of cyclists, Shao, Jiang and Yang (left to right) outside Jianghu Bar Sunday. Photo: Wang Zi/GT
Three young cyclists have announced a plan to pedal from Beijing to London, in time to catch next year's Olympic Games, which start on July 27, 2012.
Two male cyclists, Shao Ming, 28 and living in Beijing, and Yang Kai, 21, a senior at Nanjing Normal University Taizhou College in Jiangsu Province, will join female cyclist Jiang Yan, 22, a graduate of Beijing Language and Culture University.
The trio, and about 100 of their friends, announced their plans at Jianghu Bar in Dongcheng district Sunday afternoon.
They have worked on the logistics of the transcontinental ride for six months, and will start their journey on Saturday from Beijing. They will traverse Henan, Shaanxi and Gansu provinces to Tibet, and then ride through Nepal, India, Pakistan, Iran, Turkey and on to London. They expect the trip will last around 10 months and cover 18,000 kilometers.
"I don't really put a very special meaning on the trip, it's just an interesting activity, as I like many of the countries and cities we'll visit on the way," Jiang said.
"We'd like to go to the Olympic Games, but if we don't make it in time, we won't worry too much, it's just a dream," said Shao.
The trio are experienced cyclists, Shao having already pedaled his way through a number of countries, including Thailand, Cambodia, France, Germany, and the US.
Yang and Jiang also rode to Tibet in 2010. Yang's college sponsored him so he could film the trip and make a documentary during the trip.
The cyclists shared their worries about possible dangers, visa issues, and the costs. Sponsorship has paid for some equipment like their bikes and tents, but the rest they must find themselves. They have budgeted 30,000 yuan ($4,704) per person for the journey, of which more than 10,000 yuan will be for visas.
"The trip will be tough, but we must make it through," Shao said.
The three plan to apply for their visas as they go, but an officer with the British Embassy in Beijing told the Global Times they could make their journey to London more efficient if they applied for their British visa in advance, "as the entry checks would be more careful before the Games," he said on condition of anonymity.
34 Responses to "Pedalers push to London"
Leave a Reply