Tue 19 Jan 2010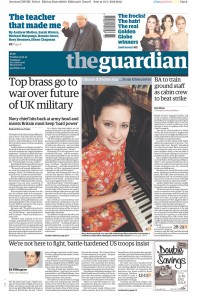 A British students, Mary-Jess Leaverland, won a singing competition in a f X Factor-style TV contest in China. The Guardian reports:
A couple of years ago Mary-Jess Leaverland was pleased to get second place in a local youth talent competition at Stroud Subscription Rooms in Gloucestershire.

Now the 19-year-old student is ­celebrating victory in a Chinese version of X Factor watched by millions.

Leaverland, from Gloucester, entered the competition during a year abroad to study for her joint honours degree in ­Chinese and music.
If you're interested in watching Mary-Jess Leaverland in competition, you can watch some of the videos from the TV programme here.