Thu 15 May 2008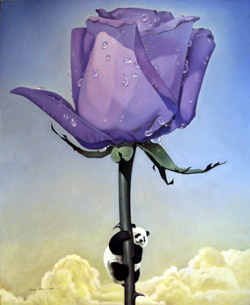 Venue:
Marlborough Fine Art
6 Albemarle Street
London W1S 4BY
Private View: 28th May 2008
Exhibition: 29th May – 21st June 2008
More information on Marlborough Fine Art
The directors of Marlborough Fine Art are delighted to announce the first UK exhibition of paintings by celebrated Chinese artist, Zhang Qikai. It will comprise twenty recent works, many using the image of the Panda, paintings for which he has been highly praised.
Born in Sichuan Province in 1950, Qikai has shown extensively in China and Japan and in Germany, where he lived in the 1990s. The apparent loneliness of living in a foreign land and a deep understanding of the differences between east and west are ever present in his work.
Having returned to his native China in 2000, he began to use the panda in his work. The panda is a symbol of peace and a protected species in China, yet he cuts a lonely, solitary figure in Qikai's work. The environment where the panda resides varies but void and quiet are a common characteristic. He is enclosed in the material world and overwhelmed by consumer culture, as if to imply his and China's predicament with the modern world.
There is conflict between what is happening in the real world, the effects of consumerism and the cultural discord within. In this highly civilised world with well-developed science and material, the panda provides spiritual sustenance while human relations are disharmonious.
The panda also suggests the desire to escape, such as driving away in a car or clinging to the stem of a rose. There is always a bid for freedom in these dream-like paintings but there is always a sense that we are held back by the constraints of reality.
8 Responses to "Zhang Qikai first London exhibition"
Leave a Reply